We are delighted to announce our 2017 Prizewinners as Anna Liber Lewis for Holy Trinity, Harrison Pearce for Interview (prototype), and Victoria Sin for Part Three / Cthulhu Through The Looking Glass.  All three works were chosen by Chris Ingram to join The Ingram Collection of Modern British Art.
Our annual Purchase Prize Exhibition is open to artists who have graduated from a UK art school within the last three years, and exists to celebrate and support the work of young artists at the outset of their careers.  This year's exhibition ran from 7-11 December at The Cello Factory in London, and showcased the work of 20 finalists, all recent graduates from art schools across the UK.  Jo Baring, Director and Curator of The Ingram Collection commented:
"Once again the quality of submissions for our Young Contemporary Talent Purchase Prize resulted in a fantastic exhibition featuring work across a variety of media by 20 brilliant young artists. The three 2017 prizewinners each have an extra special quality. Anna Liber Lewis demonstrates that painting is still a vibrant and exciting contemporary practice, Victoria Sin is a key proponent of a movement revamping queer culture, and Harrison Pearce is an exciting young sculptor whose large-scale kinetic sculptural installation was thrilling to see. Congratulations to them all."
---
ANNA LIBER LEWIS, HOLY TRINITY, 2016, OIL ON CANVAS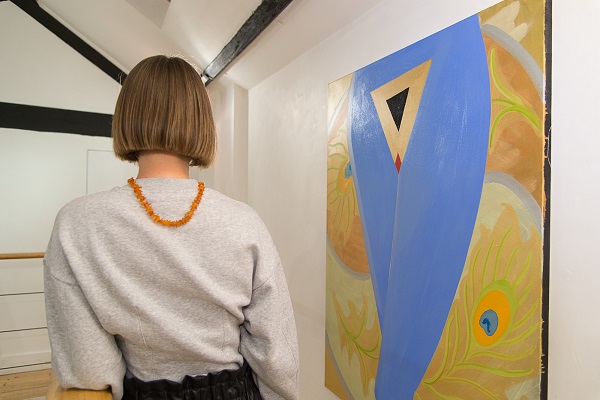 Following an earlier Fine Art degree at Central Saint Martins, Anna was granted a Genesis Foundation scholarship to study at the Royal College of Art, graduating with a Fine Art Painting MA in 2015.  She has shown work in London and Europe, and was recently awarded the 2017 Griffin Art Prize. "I paint from life, from imagination and from memory. Each painting comes from an encounter. I am interested in this moment, when something shifts: a metamorphosis that happens sometimes physically, sometimes emotionally; manifested in behaviour, body language and visual signs, a shape shifting. My painting is often concerned with ideas around female sexuality, challenging the image of woman, created historically by men. The paintings shift between what is seen and what is felt. They morph between the act of looking and the manifestation of a sensation, be that flirtatious glances, desire or defiance. Oscillating between subjectivity and objectivity, ambivalence is the driving force, moving in and out of abstraction."
I feel really honoured to have won the 2017 YCT Prize alongside two brilliant artists, whose work I really admire. The support from the Ingram team is palpable. I am very happy that my painting has such a great new home, becoming part of a really important art collection. I am dancing a little jig!
HARRISON PEARCE, INTERVIEW (PROTOTYPE), 2017, KINETIC SCULPTURE AND SOUND INSTALLATION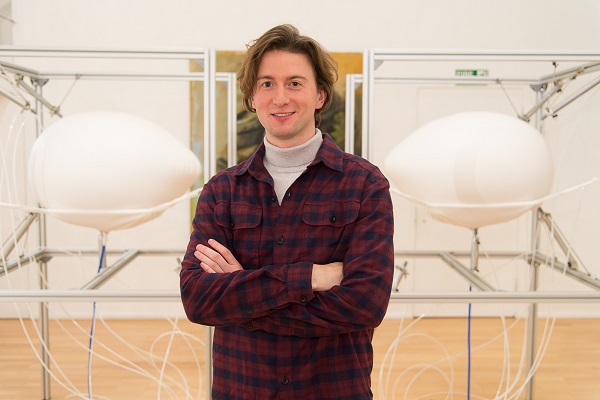 Harrison Pearce recently graduated from City & Guilds of London Art School and has shown in solo and group exhibitions alongside established international artists.  He is currently working on a collaborative project with composer Nico Muhly to develop a substantial installation for Southbank Centre and he has just been awarded a Bursary Award by the Royal British Society of Sculptors.  Harrison's work brings together disparate areas of research and practical disciplines to produce large-scale kinetic sculptural installations. Stemming from the mind-body problem his work looks at contemporary belief systems in which scientific and technological evidence determine first-hand sensation. To do that he exploits the correspondences we have with materials, especially their dynamic properties, so that these often-industrial looking apparatus behave in uncanny ways, shifting unpredictably between the mechanical and the bodily. The overall aesthetic weaves together absurdist theatre, minimalism and science fiction cinema to form propositional scenarios in which to speculate about lived experience.
Winning the Young Contemporary Talent Prize was such an honour and I met fantastic people through the exhibition, which was just seamless and so professional. Most rewarding of all though has been to see my work enter the Ingram Collection alongside incredible works from modern and contemporary British sculpture.
VICTORIA SIN, PART THREE / CTHULHU THROUGH THE LOOKING GLASS, 2017, FILM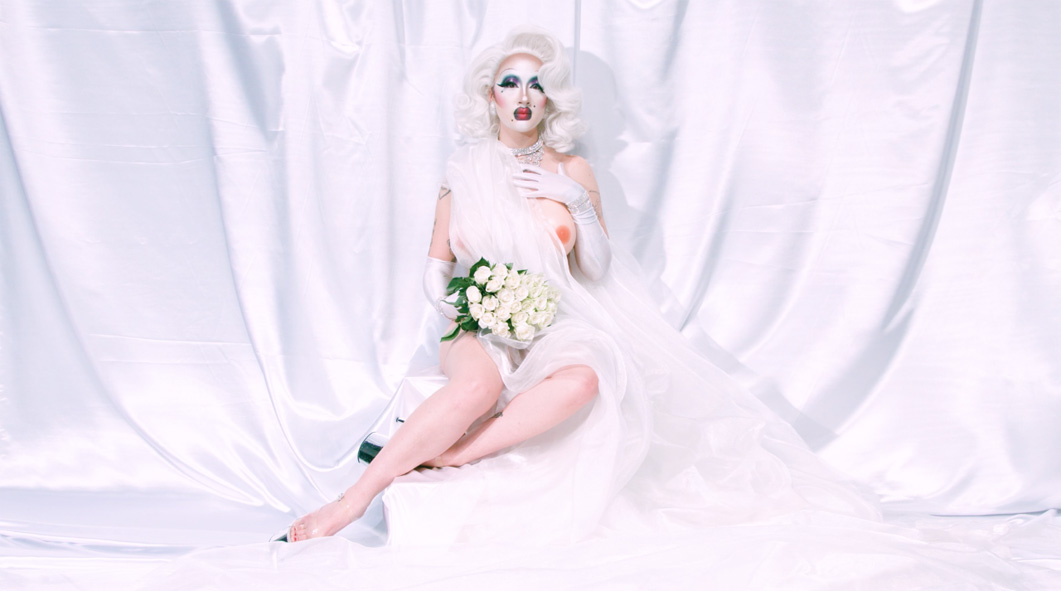 A recent graduate of the Royal College of Art, Victoria is a London based artist concerned with the experience of the physical within the social body. Their work explores desire, identification and objectification within systems of looking and reification of ideal images within technologies of representation. They work across performance, moving image, writing, installation, and print, and use drag as a tool to challenge expectations and attitudes on femme identities and how images and iconography of femininity are produced, inscribed, and performed. Their long term project, Dream Babes, explores speculative fiction as a productive strategy of queer resistance, invading existing narratives around naturalised states of sex, gender and race, imaging futurity that does not depend on existing historical and social infrastructure.
I'm so pleased to have received the YCT prize, it's come at an important time in my practice.
You can find the full list of 2017 finalists here
Details of the 2018 prize will be announced later this year.