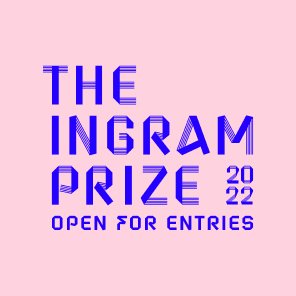 The Ingram Prize is an annual purchase prize open to visual artists who are within five years of graduation from a UK-based art school.
Now in its seventh year, this leading prize for contemporary artists was established by The Ingram Collection to celebrate and support artists at the beginning of their professional careers. We recognise the vital importance of practical support in these early years, and through our prize we offer opportunities to exhibit and sell work, a programme of continuing professional development, and the chance to develop both industry and peer-to-peer networks.
Eligible artists can submit up to two works in any media, with no restrictions on size.
The Prize is free to enter.
Selected finalists will be invited to showcase their entries in a group selling exhibition at Unit 1 Gallery | Workshop, an exhibition and residency space in West London (24 – 29 November 2022). There will be an accompanying illustrated exhibition catalogue and artist private view.
The Ingram Prize is generously sponsored by Rawlinson & Hunter.
---
PRIZES AND OPPORTUNITIES
The Ingram Prize: three works will be acquired for The Ingram Collection.
Founder's Choice Award: one work will be selected by Chris Ingram and acquired for The Ingram Collection.
TM Lighting Exhibition Prize: one finalist will be offered a solo exhibition in Autumn 2023 at TM Lighting's London gallery space, curated by Jo Baring, Director of The Ingram Collection.
One Ingram Prize winner will be offered a solo exhibition in 2024 at the Art Fund Prize-winning gallery and museum, the Lightbox.
All finalists will be offered the opportunity to apply for an artist residency project in 2023, given in partnership with Hestercombe Gallery in Somerset.
All finalists will be invited to attend a programme of talks and seminars from industry professionals during the exhibition run.
---
ELIGIBILITY
Artists must be over 18.
You must hold a formal practice-based qualification in the visual arts from a place of higher or further education (undergraduate or postgraduate level) within the UK. If you are unsure whether your programme of study is eligible, please contact alison.price@ingramcollection.com.
You must have completed your course between 1 April 2017 and the closing date for 2022 submissions (12 September 2022).
---
HOW TO ENTER
You can apply for the prize online and get full details here. 
---
ABOUT UNIT 1 GALLERY | WORKSHOP 
Unit 1 Gallery | Workshop is an exhibition and residency space in London, unique in its approach, bringing artists and their practices to the public by providing residency and exhibition opportunities. They support a diverse range of emerging and mid-career contemporary artists by giving space and time for developing their practice, networking within their growing community, mentored by team members. Artists are constantly introduced to their expansive network of collectors, curators, art educators, professionals and visitors. They have now organised more than 60 exhibitions with over 200 artists and curators, with a yearly programme of 10 exhibitions and 25 artists in residence, drawing in international audiences and participants, as well as being a local landmark in West London.

ABOUT TM LIGHTING
TM Lighting is the leading specialist in art lighting. It believes that when art is lit to its best advantage it has the power to transform. Using its own UK-designed and manufactured products, it provides tailored solutions to an international client base that includes globally acclaimed artists, commercial galleries, private and public collections, museums and historic houses along with retail and hospitality brands. It has worked with leading artists such as Damien Hirst, Conrad Shawcross, Michael Craig Martin and Antony Gormley and supplies its lights to exhibitors at the world's leading art fairs: TEFAF, Frieze, Masterpiece London and Art Basel.
The company adheres to its unique Three Cs methodology to bring art to life: Colour Rendition, Colour Temperature and Colour Consistency.  It helps its clients to understand the impact that high quality lighting can have on an individual work or an entire collection and delivers a bespoke, 360-degree project service and is committed to bringing 'art to light'.