It's almost exactly two years since my work was selected for the Ingram Collection's inaugural Young Contemporary Talent Purchase Prize Exhibition at the Cello Factory. It was an honour to take part alongside some amazing artists and, as I had only just graduated from my MA, it felt like a real vote of confidence in my work.
Since taking part in the Purchase Prize exhibition I've joined a great community of artists at the Koppel Project Hive studios, taken part in several residencies and exhibited in a number of shows. A particularly exciting one was Painting [Now] at Studio 1 Gallery, London. The exhibition was a survey of current painting practice. The work on show was rich and diverse and it was really great to be involved.
This was followed by the 2017 Jerwood Drawing Prize exhibition which went on a national tour. My work titled FAO Georg Baselitz was made in response to his comments that women can't paint. I made 26 ink sketches of women painters and compiled them into an artist's book. I was pretty delighted to be shortlisted as, when I made the work, I had no idea that it would be exhibited anywhere. I just felt compelled to make it.
Also in 2017 I was surprised to be invited to apply for the Dentons Art Prize. I was very happy to win the Staff Prize, to get a special commendation from the judges and to hear that my painting had been bought by the David Roberts Art Foundation.
This year I have a large work in the Trinity Buoy Wharf Drawing Prize exhibition (formerly the Jerwood Drawing Prize) which is currently on a national tour. My work titled You too? was made in response to the recent #MeToo movement which saw astonishing numbers of women recount their experiences of misogyny. The 1350 tiny ink sketches that make up the piece represent the scale of those affected. Once again, I had no idea if, or where, the work would be exhibited, I just felt it had to be made! I think what I've learned is, that if you feel strongly about your work, the chances are that it will resonate with others too.
Going forward I will be co-curating a show at a new gallery about to open in Soho. This will definitely take me out of my comfort zone but I'm actually really looking forward to it.
It's not always easy being a working artist in today's climate. There are rejections as well as successes, but having your work selected for exhibition, especially by an institution as respected as The Ingram Collection, is definitely a great way to start out as a postgraduate artist.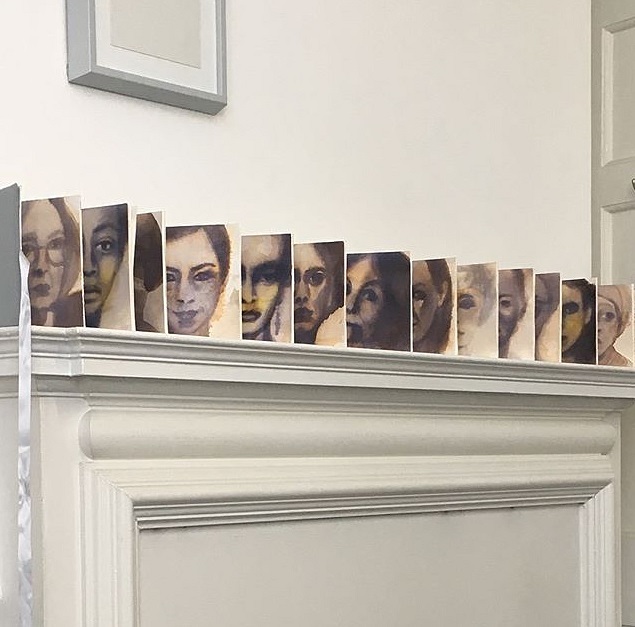 Fiona Roberts, FAO Georg Baselitz