We are delighted to announce the winners of the 2020 Ingram Prize:
Kristina Chan for Banksia Seeds (3 States), a set of bronze sculptures inspired by the Australian bush fires; Connor Coulston for Sometimes, Connor, it feels like I'm just waiting to die, a ceramic 'depressed ewer'; and Madinah Thompson for the film Saliva & Tears / Underneath You.
This year also sees an additional prize, the Founder's Choice Award, which goes to Marigold Plunkett for her etching and aquatint The Light/The Dark, selected by Ingram Collection founder, Chris Ingram.
In making the announcement, Jo Baring said "Each of these young emerging artists has created a considered, powerful artistic response to this turbulent year, in the very different materials of bronze, ceramic and film. I'm so thrilled that – through the Ingram Prize – we are able to give them a platform for their work. Building on the legacy of artists within the Ingram Collection we are determined to create opportunities for emerging artists to develop and flourish."
Kristina Chan, Banksia Seeds (3 States), 2020, bronze (polished, brushed, patinated)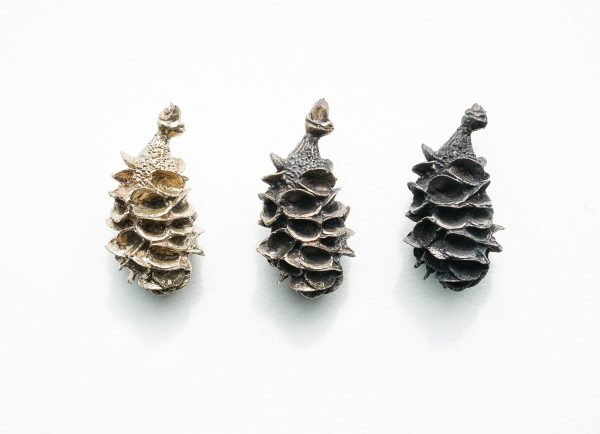 Kristina Chan graduated from the Royal College of Art in 2016 with an MA in Print. Her practice explores narrative and place through printmaking, alternative photography, and sculpture. Each work tells a story, exploring our relationship with place. Bankia Seeds is inspired by a recent residency in Australia, undertaken from October to December 2019 during the height of the bushfire season in New South Wales. This is a sculpture in three states: the seed before, during and after the fire, showing the resilience and strength of nature. Banksias are pyrophytes, which means they have evolved to germinate in fire, requiring it to release their seeds, leading them to not only survive, but thrive, despite the devastating bushfires. Upon returning to the UK and the following months of lockdown, these works took on a greater meaning for Chan.  She says "cast in bronze, they began to represent the strength, resilience, and perseverance we find within ourselves."
Connor Coulston, Sometimes, Connor, it feels like I'm just waiting to die – Depressed Ewer, 2018, glazed ceramic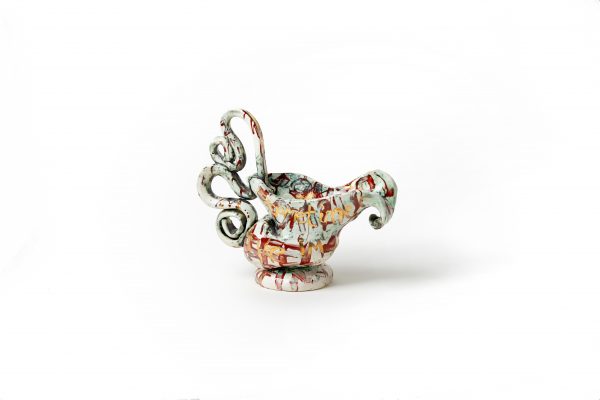 Connor Couston graduated with a Ceramics & Glass MA from the Royal College of Art in 2017. His work concerns itself with the kitsch charity shop ornaments that once took pride of place in our homes but end up in the bargain bucket at the local Oxfam. Many of his works are reinterpretations of these objects, but with either a socio-political undertone or a reflection on childhood memories. This piece was created in reaction to a conversation he had with his mother when he asked her what it feels like to live in their hometown of Oldham. Connor says "I didn't intend on creating the piece when I was making the Ewer – but the first signals of my mum's depression were playing on my mind as I was going through the same feelings at the time. It felt like I was subconsciously putting these feelings and emotions into the piece and the clay knew how to respond. It kept slumping, unable to meet me halfway, and do what I wanted: to be the perfect ewer.  Eventually, I succumbed to material and the process and stopped forcing the clay to be perfect but allowed it to react to my emotions at the time." 
Madinah Farhannah Thompson, Saliva & Tears / Underneath You, 2020, film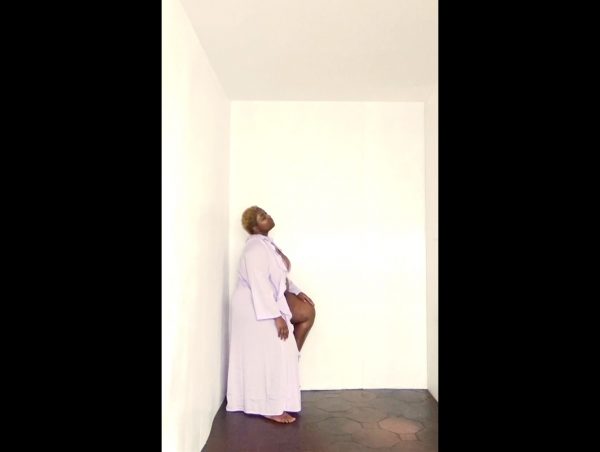 Madinah Thompson is a visual artist and writer and recently completed a Performance Making MA at Goldsmiths, University of London. Her film uses her own poem underneath you alongside other texts which discuss emotional abuse, control and manipulation within romantic relationships. The film juxtaposes these works with imagery depicting a black woman's search for spiritual cleansing, and explores the ritual of touch and gesture as a way to both summon and preserve memories, connect to ancestral knowledge and continue legacy. Madinah says "I found lockdown challenging as a performance artist, however my writing practice helped me to remain creative. I co-founded and co-facilitate a writer's group for black women and nonbinary people in London, and this continued (virtually) throughout lockdown, which ensured that I was writing and sharing work regularly. My practice changed and developed during this process. I built a set in my living room and made Saliva & Tears/ Underneath You. I have become more flexible in my ways of working as a result and my practice has shifted into filmmaking which is exciting."
Marigold Plunkett, The Light/The Dark, 2020, etching & aquatint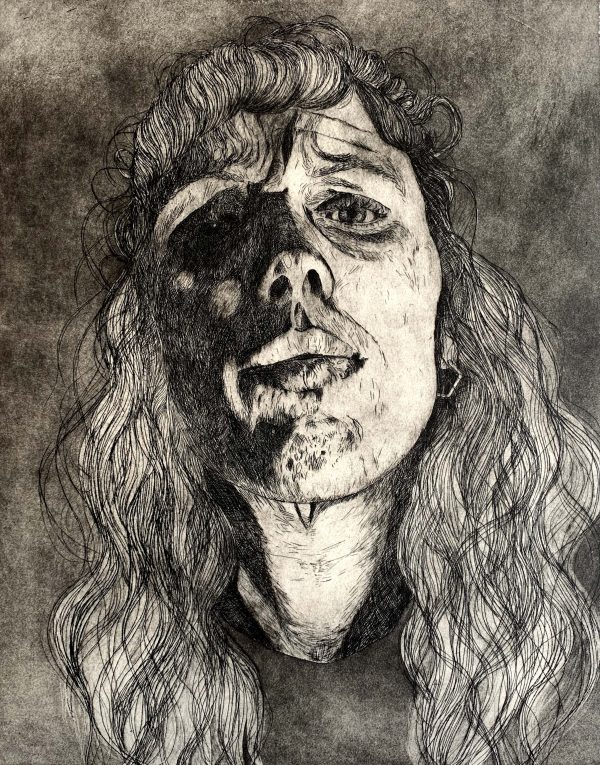 Marigold recently graduated from Camberwell College of Arts with a distinction in MA Printmaking. Her work is concerned with the female gaze and the expressive nature of line and mark-making in intaglio printmaking. She completed a BA in Social Anthropology in 2004, which has guided the way she approaches her portraits. Marigold exhibits her work in Kent and Sussex and has exhibited twice in the Society of Women Artists' annual exhibition at The Mall Galleries. She is the recipient of the annual Artichoke Print prize and has been given a fellowship to work in their Brixton based workshops. She continues to develop the projects she started in her MA alongside her commissioned work. This work is an intaglio etching which is concerned with the retrieval of the female gaze, subtly challenging narrow Western ideals of female beauty.