In December we were delighted to announce the winners of our 2018 Purchase Prize for Young Contemporary Talent: Tomas Harker for Striped Scarf, Ben Hughes for My Magna Mater Complex and Phyllis McGowan for Blue Bonnet.  All three works were chosen by Chris Ingram to join The Ingram Collection.
Our annual Purchase Prize exists to celebrate and support artists at the outset of their careers, and is open to all artists who have graduated from a UK art school in the last three years.  The 2018 edition of the prize was exhibited at The Cello Factory in London from 22 – 26 November, and showcased the work of our 27 finalists.
Jo Baring (Director, The Ingram Collection):
The Young Contemporary Talent Purchase prize is one of the highlights of my year. Once again we were thrilled to see such a high standard and variety of work submitted to the prize. All the finalists should be congratulated on their achievement. I look forward to working with all three winners.
---
Tomas Harker (b. 1990), Striped Scarf, 2018, oil on canvas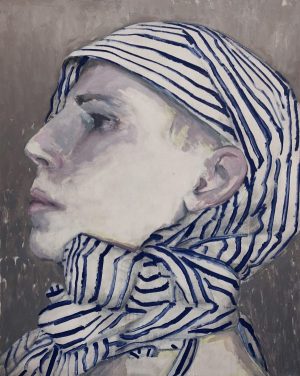 Tomas Harker recently graduated with a BA in Fine Art from Leeds University.  He uses painting as a means of reinterpreting images, and to consider how images inform our understanding of present day reality and history. Harker has exhibited across the UK, including FLUX, Manchester Art Fair, Arusha, Maze, and Bo.lee Gallery. He has been included in publications such as Aesthetica, Create and Noctis Magazine. He is currently undertaking an MA in Painting at the Royal College of Art.
A friend recommended the prize after introducing me to Corey Whyte, a previous winner. I was over the moon to find I was a finalist, and taking part in the exhibition was a privilege. When I found out I was a winner I was absolutely shocked. The Ingram Collection is very supportive and provided a lot of additional support in addition to the prize and exhibition; it was a great experience. I am so thankful to be involved and it is an honor to be part of the collection.
Ben Hughes (b. 1986), My Magna Mater Complex, 2016, bronze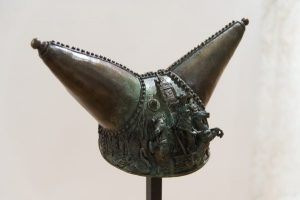 Ben Hughes graduated with an MA in Fine Art from City and Guilds of London Art School in 2016 and currently works and lives in London. Since graduating he spent a year in India studying traditional ceramics followed by a solo show at Brocket gallery.  Prior to graduation he had a number of group shows and commissions including making large-scale sculptures for companies including Guinness, Honda and Wieden and Kennedy. Having initially foregone the traditional art school path, Hughes trained in metalwork at Pangolin Editions foundry in Gloucestershire learning the art of fabrication and bronze casting.
It was a great honour to win the young contemporary prize and a real privilege for my sculpture to be among such a fantastic collection of work.
Phyllis McGowan (b. 1961), Blue Bonnet, 2018, terracotta and underglazes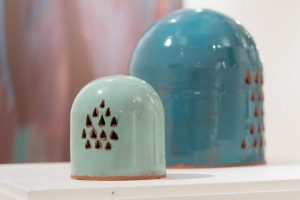 Phyllis McGowan is from a social work background and graduated from Glasgow School of Art in 2018 with a First Class BA Hons degree in Sculpture & Environmental Art. She has since exhibited at the Royal Scottish Academy and with Visual Arts Scotland at Tatha Gallery. Working across forms, McGowan uses words, objects and performative images to capture emotion. She is interested in domestic repression and its connection to power and sexual violence, the re-appropriation of hysteria and the possibility of a new language for women. Her work is often autobiographical and draws from her felt experience and background in psychology and feminist practice.
I was delighted to take part in the Ingram Purchase Prize, a well organised opportunity for new graduates. It was good fun to show in the exhibition and I learned a lot from the series of useful talks from artist/curator Rosalind Davis and the Artists Collecting Society.  It was a great chance to show my work in London, to meet the other selected artists and of course to win among such a high standard of work.
Our 2018 finalists were:
Tristan Barlow, MFA Painting, Slade School of Fine Art
Magdalena Blasinska, MA Painting, Royal College of Art
Won Young Chang, MA Painting, Royal College of Art
Elizabeth De Witt, MA Painting, Royal College of Art
Alex Gibbs, MA Painting, Royal College of Art
Gabriela Giroletti, MFA Painting, Slade School of Fine Art
Ant Hamlyn, MA Fine Art, Chelsea College of Art
Tomas Harker, BA Fine Art, Leeds University
Mary Herbert, The Drawing Year, The Royal Drawing School
Oliver Hoffmeister, BA Fine Art, Newcastle University
Ben Hughes, MA Fine Art, City and Guilds of London Art School
Sunyoung Hwang, MA Painting, Royal College of Art
Alex Leigh, BA Fine Art, Slade School of Fine Art
William Mackrell, MFA Fine Art, Goldsmiths
Phyllis McGowan, BA Fine Art, Glasgow School of Art
Holly Mills, The Drawing Year, The Royal Drawing School
Andras Nagy-Sandor, BA Fine Art, Newcastle University
Eleni Papazoglou, MA Information Experience Design: Moving Image, Royal College of Art
Jinyong Park, MA Painting, Royal College of Art
Maria Positano, BA Fine Art, City and Guilds of London Art School
Max Prus, Postgraduate Diploma in Fine Art, Royal Academy Schools
Noor Qayyum, MA Painting, Royal College of Art
Bryan Reedy, MFA Painting, Slade School of Fine Art
Virginia Russolo, BFA, The Ruskin School of Art
Lucy Smallbone, MFA, Slade School of Fine Art
Oona Wilkinson, BA Sculpture and Environmental Art, Glasgow School of Art
Tess Williams, MA Fine Art, Central Saint Martins
Images © the artists and John Paul Bland